Cars For Sale supports Children's Miracle Network Hospitals
With a little bit of ice cream, Cars For Sale is doing its part in helping Children's Miracle Network Hospitals cover funding gaps some of those hospitals face.
Continuing an ongoing tradition, Cars For Sale purchased Dairy Queen Blizzards for their employees as part of Miracle Treat Day. Each year, $1 or more of each Blizzard purchase is donated to Children's Miracle Network Hospitals. Those donations fund everything from DVD players for children's rooms to Vecta multisensory machines to therapy pools. Some hospitals have expanded their pet therapy program or upgraded their facilities with the proceeds from Miracle Treat Day.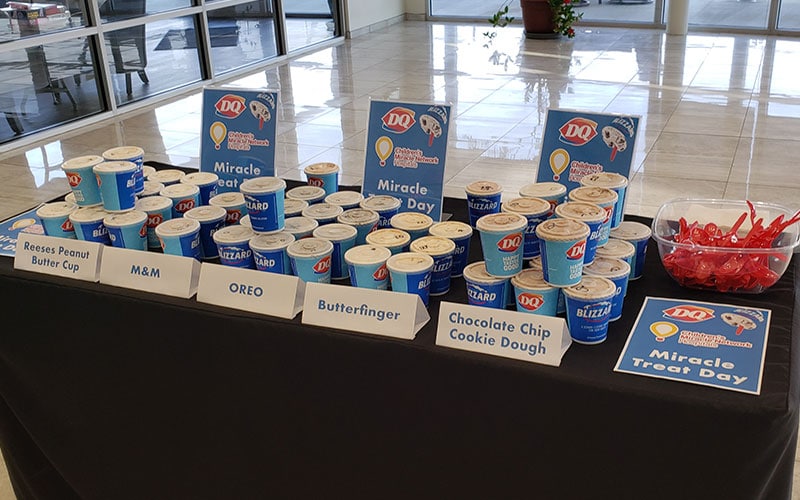 To support those efforts this year, Cars For Sale purchased a Blizzard for any employee who wanted one. Cars For Sale management delivered the 58 Blizzards just after lunch to some very excited and appreciative employees. Team members from every department in the Cars For Sale building received a treat, knowing some of the proceeds would go to an important cause.
"At Cars For Sale, our culture believes in giving back to the community we live in. Events like the Miracle Treat Day allow us, as a company, to give back and support. I know, as an employee, I truly appreciate working for a business that holds that value."
Dawn U., HR Director
Purchasing these treats is just one example of Cars For Sale's continuing commitment to focusing on philanthropy. Employees at Cars For Sale have gathered to volunteer for the Sioux Falls Area Humane Society, Feeding South Dakota's Backpack Program, the Salvation Army's bell ringing initiative. 
Since 1983, Children's Miracle Network Hospitals have raised more than $7 billion to help with a variety of needs. More than 10 million kids enter a children's hospital each year. To find out how you can help Children's Miracle Network Hospitals, you can visit: https://childrensmiraclenetworkhospitals.org. To learn more about Dairy Queen's Miracle Treat Day, please visit: https://www.dairyqueen.com/en-us/miracle-treat-day.