On Boats and in Campers, How CFS Employees Energized Their Summer
This summer, Cars For Sale team members became avid campers, fishers, and boaters!
Renting boats for lake cruises and Pacific Ocean expeditions, or hauling the travel trailer a few hundred miles to find the perfect spot for a toasted marshmallow by the campfire, the employees for Carsforsale.com were ready for adventures!
Whether it was rest and relaxation or active recreation they were looking for, the hitched-up campers and a variety of boats were popular and needed tools for many of these families as they planned their time away from work and school.
Upholding Tradition
Taking a Jayco Designer camper out to the Battle Creek Campground on East Vermillion Lake has been a tradition for Amanda and her family for the past six years. Her children, Cadin and Jordan, weren't the only passengers on board this trip, though. They shared the camper with their four dogs: Sydney, Scout, Scrappy, and Jessie!
Even with the entire family loaded up, there was still enough room for everyone to get comfortable. There were plenty of dog naps, too! They took the Jayco out on more than one occasion this past summer to make a lot of memories with their fellow campers.
Our campground is like one big family. We always enjoy campfires, fishing on the lake, kayaking, beanbag tournaments, and togetherness.
– Amanda B., Dealer Relations
Gathering 'Round the Campfire
Hauling a 33' travel trailer, Todd and his family went to Lake Kampeska in Watertown, South Dakota. That wasn't quite enough summer fun, so, later, they went to the Lewis and Clark Recreation Area along the Missouri River.
For the past eight years, they've made dozens of camping trips with two other families. Todd brought the comfort of home to the camp site, setting up the awning to his 2012 Keystone Passport Bunkhouse to provide a shaded supply area. With a bunk room included in the trailer, everyone had their own space to wind down or relax.
But once the camper was parked and the campsite was set up, the kids were off!
All of our kids are about the same age and normally do everything as a large group. They enjoyed tie-dying shirts, hiking, kayaking, boating, darts, board games, and just relaxing in their hammocks. The parents enjoy watching them all hang out, without the need to be on their phones or video games all of the time. At the end of every day, we all sit around the campfire and roast hot dogs or marshmallows.
– Todd H., Corporate Operations
Checking an Item Off the Bucket List
Angel spent part of her summer vacation on a different kind of boat: a charter boat on the San Francisco Bay. She and her boyfriend, Ed, decided to go fishing for sharks!
The 33-foot Tiara they were on was built by S2 Yachts, featuring a 12-foot beam. Combining the power of a sport fishing boat and the elegance of a yacht, the vessel provided the perfect opportunity to nab a shark!
Fishing for shark was on my bucket list. It was amazing! I caught Halibut and Leopard Shark. Fisherman's Wharf was fun, with food vendors, entertainment on the streets, and lots of little shops.
– Angel D., Dealer Relations
Creating Memories and Souvenirs
Surrounded by fellow campers who traveled in their RVs and travel trailers, Jim and his family spent their summer vacation at Newton Hills State Park in Canton, South Dakota.
It was an exciting atmosphere as spectators gathered for a game of cornhole, nieces and nephews joined in for some baseball, and almost everyone went home with a new tie-dyed t-shirt! Parents, siblings and grandkids all made the trip, loaded up on laughs while they were there, and left with a bunch of new memories.
The family camping trip is once a year. The site is selected by families from a different state each year. We had a great time, and much food was eaten. We had a tie-dying project that was a creative blast!
– Jim T., Feeds
A Catamaran Cruise
It surprised Kevin that one sunset cruise on a large Catamaran boat was one of the highlights of his trip to Table Rock Lake, in the Ozarks of southwestern Missouri and northwestern Arkansas.
The trip has become somewhat of a tradition for him. This year, he and his wife, Kayla, enjoyed the outdoors and, this year, they decided to try something new, spending some time on the water. The cruise on the twin-hulled boat turned out to be just what they needed!
It was a lot of fun! The sunset cruise was a lot more fun than I would have expected.
– Kevin H., Carbase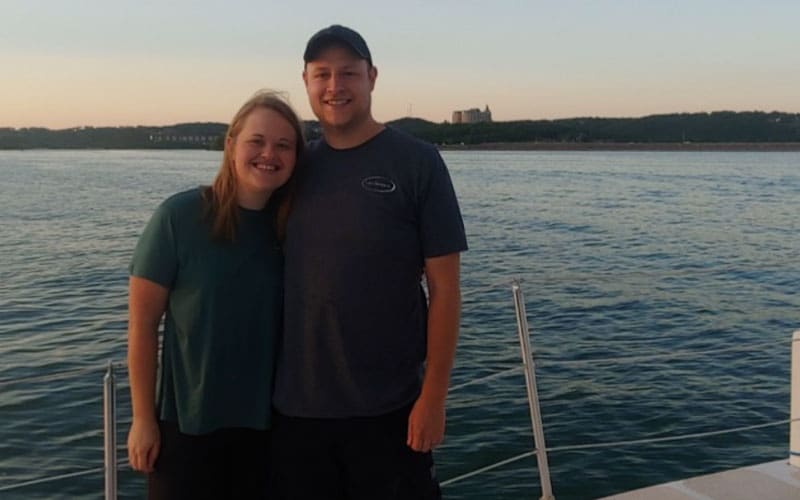 Toes in the Sand
Nate and his wife had several highlights on their trip to the North Point Campground in Lake Andes, SD, but one of them was watching their children splash in the Missouri River and play on the beach!
Renting a cabin there has become a favorite part of their summer routine.
We always enjoy our yearly getaway to North Point because it gives our family a really good chance to connect, have fun, sit by the campfire, roast s'mores, tell stories, and enjoy the beautiful sunset by the river. My boys can sit and play in the sand for hours and hours!
– Nate W., Sales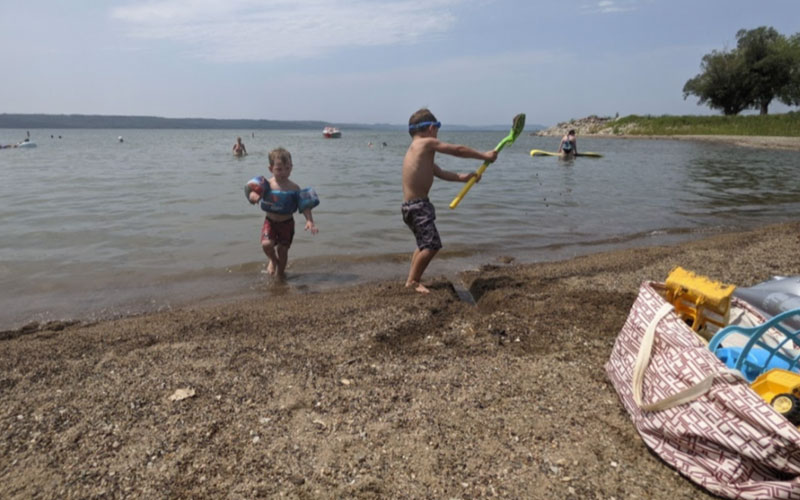 Birthday Celebrations
This summer, Amber and her group of girlfriends traveled to Okoboji, Iowa to help celebrate a very special birthday: her best friend's daughter was turning 18 years old. The party was held in a wooded cabin, perfect for seclusion and relaxation, but between gifts being unwrapped and birthday cake being eaten, there was plenty of time to get outside for some sunshine. Not even her broken foot was going to stop that!
As their children grow up, Amber and her pals now have less family living in their homes, but their friendship ensures they all still have plenty of never-ending support.
My friends and I are starting to celebrate being empty nesters as our kids are now getting older. We will continue the tradition, celebrating as each of our children turn 18. These are the women that were 'my village' and helped raise my kids, and vice versa.
– Amber B., Dealer Relations