Keep Calm and Christmas On!
Just because we can't celebrate together doesn't mean we can't pull off some of our favorite holiday traditions in a non-traditional way! Between Secret Santas and ugly sweaters, a little extra giving and a lot of additional laughter felt like the most logical way to wrap up 2020.
Santas Are Still Secretly Sleighing It
A small group of team members, unable to contain their love for Christmas, chose to spread a little extra cheer by participating in the annual Secret Santa gift exchange. With the help of our designated Elf, Cande, each Santa brought a week's worth of gifts to the office for their assigned person, with the intent that one gift be opened each day (don't lie, we know some of you opened them all on the first day).
"I unwrapped different Flamin' Hot snack products all week! I'm a sucker for spicy food, but I wasn't prepared for the stained red fingers and heartburn that followed. Probably should have asked for some Wet-Naps and Tums too."
– Jesse, Marketing
"Throughout the week, we had fun laughing about silly gifts like the A-Salt Rifle toy that shoots salt. We admired the creativity of the rose-adorned packages of our Bachelorette loving teammate's presents. My Santa spoiled me with gifts that were perfect for me and gave me a smile each day!"
– Nikki, Product Innovation
On Friday, those who participated jumped on a virtual lunch call to open their final gift and guess who their Santa was. Some Santas turned out to be extremely clever, fooling everyone and remaining a mystery until the very end. Overall, everyone enjoyed the silly, creative, and personalized gifts they received from their Santa. Thankfully, no one ended up with a box of coal this year!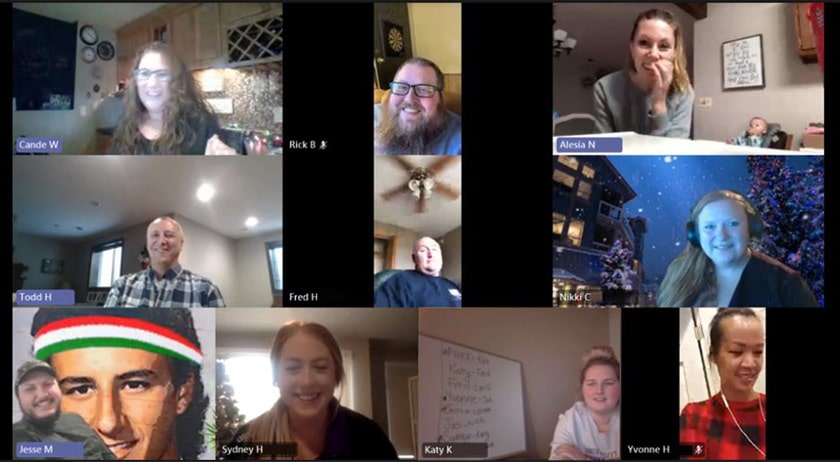 "It was so much fun to experience Secret Santa in a whole new way this year, and to see the fun present ideas that people came up with!"
– Katy, Human Resources
The Ugliest of Sweaters
There's only one type of contest where the ugliest entry wins, and that's an Ugly Sweater Contest. Cars For Sale team members dusted off their ugliest, gaudiest, and funniest sweaters (and full-out ensembles!) for their chance at being named the winner of this year's contest. Who would be your number one out of this hilarious bunch?