From Miles Away: Fourth of July Gatherings
A three-day weekend is the perfect time for a road trip and that's exactly what many of us at Cars For Sale did to celebrate the 4th of July. Time with family, friends, fur babies and neighbors gave us the opportunity to rejuvenate and reflect on the important aspects of our lives and careers.
Whether it was loading up three kiddos into a Honda CR-V and driving five hours away to spend time on the lake or taking the family on a two-hour drive for a hometown adventure in a Jeep Grand Cherokee, everyone got to their destinations safely.
A 2-hour drive, three kids and one memorable weekend 
Miles packed up his 2017 Honda CR-V and drove his young children to Big Stone Lake so they could share some new experiences. The road construction and detours may have slowed them down, but, thanks to the air conditioning in his CR-V, the heat and humidity didn't.
"My favorite part was our evening at the lake. Big Stone Lake is known for walleyes and beautiful sunsets, and it has become a popular summer vacation spot for people looking for that lakefront life. My kids had never done any lake swimming before and, within minutes, you would have thought they'd been hatched from seaweed. The worst part of their night was getting out of the water to watch fireworks and eat popsicles, and that's saying something."
– Miles R, IT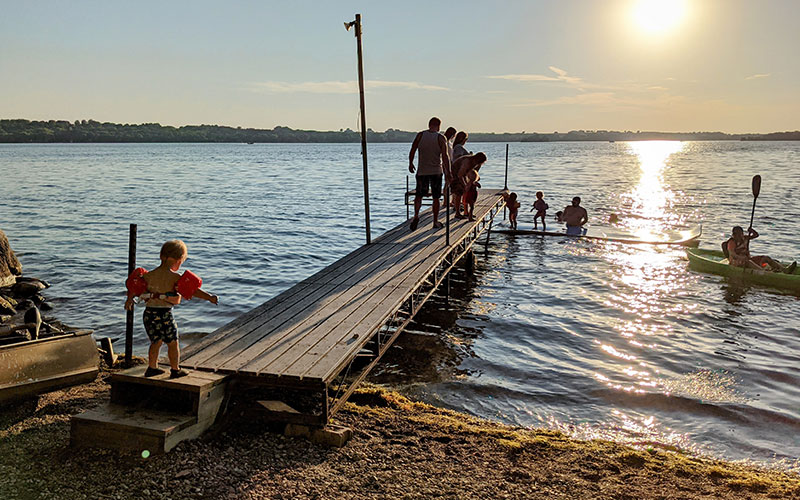 Jumping into a Jeep and then into the lake 
After packing up five bags for the trip, James and his children settled into their 2012 Jeep Grand Cherokee for a five-hour drive to Park Rapids, MN. There was no sleeping on this road trip! A game of "I Spy" and the excitement of what was yet to come kept his young daughter wide awake for the entire trip.
"Family time and watching my daughter play in the lake (was my favorite part of the holiday).  Watching my daughter tubing and just making hand signals to go 'faster and faster!' and of course barbecue and fireworks!"
– James T, Feeds
A Ford, Fireworks and 40 Family Members 
It was a short drive for Katie in her 2013 Ford F-150, traveling about an hour to meet up with family. Dozens of vehicles lined the road leading to their acreage with over 40 family members attending the celebration!
"Our 4th of July was spent at our family acreage in Sibley, IA. We had about 43 people there and ages range from 2 years old to 87 years old. My uncle Mike always buys an obnoxious amount of fireworks that we light off, both big and small. This year it was a big one which brought lots of town people out driving by. All was contained though. We spent our time grilling great food, playing bean bags, visiting with each other and lighting off a bunch of pretty explosives."
– Katie V-K, Carbase
Road Tripping Through the Black Hills in the Storm 
Nikki loaded up her 2019 Toyota Tacoma with her beloved pugs, family and her travel essentials for the 6-hour trip across the state. Luckily, they got everything all in one vehicle, the Tacoma even had room for their bicycles. Her pugs didn't mind the fireworks at all, but the thunderstorm they drove through on the way back was a different story.
"My family celebrates our nation's independence by taking in some fireworks in the beautiful Black Hills, SD. Although not by choice, our other tradition seems to be driving through storms. Even as a kid, we would always attend the Rapid City Open Swimming Competition, and it would inevitably have a rain delay. This year wasn't different, as we made our way home through a storm. I'm happy to have a vehicle that gets us safely through the rain."
– Nikki C., Product