Celebrating a Cars For Sale Christmas 
It was a festive, but interesting holiday season at Cars For Sale this year. Our facilities staff kicked things off with decorations around the entire building. Stockings were placed alongside staircases, tinsel bells were attached to pillars and posts, and giant wreaths were hung on the second-floor glass railing for everyone on first floor to see. Several people entered their names into an ugly sweater contest that featured several unique outfit choices. 
The annual Cars For Sale holiday party was delayed, though. In true South Dakota fashion, winter weather caused a quick change in plans. Thankfully, the Christmas spirit was extended an extra week. We celebrated later than normal, but employees still showed up dressed in Santa hats, in green and red flannel, in an elf costume, and even as Santa Claus!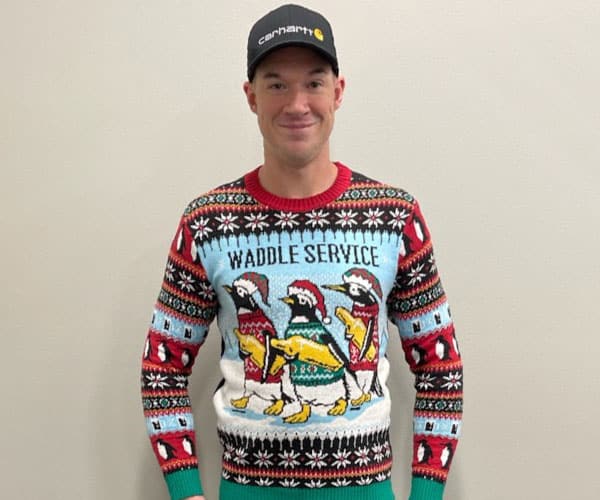 People chatted over coffee, donuts, and hot chocolate (with marshmallows and peppermint shavings!) while flipping through the annual Cars For Sale yearbook. The book is close to 50 pages, filled with photos of employees, events, and milestone achievements throughout the year. People eagerly turned each page, laughing as they were reminded of funny memories. It's a favorite tradition for employees here. 
Some surprise gifts were handed out this year to celebrate big life changes: new parents were given a pack of diapers, new homeowners were gifted a wooden tree ornament with the date carved into it, and employees with children who turned 13 in 2022 received a bottle of Tylenol for the teenage years that they were about to experience.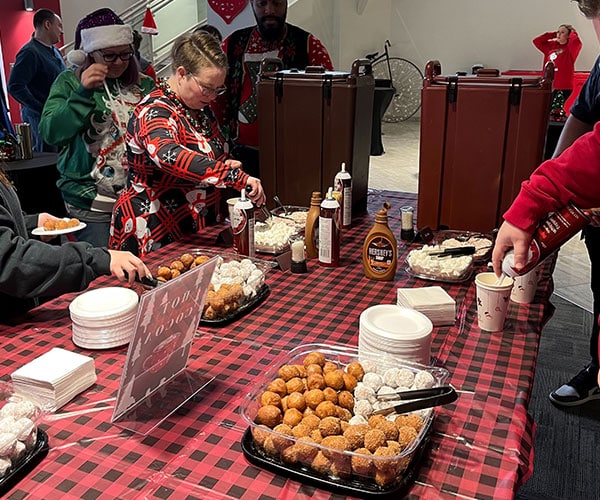 Then, it was time to get competitive and win some money! After splitting into 10 teams, our Santa Claus-dressed host led the way in several rounds of Christmas Trivia. Questions about Bethlehem, The Grinch, Jingle Bells, and A Christmas Story were all asked and answered. When two teams ended up with the most points, they went into the tie-breaking questions. Finally, Team 7 emerged victorious. They walked away with bragging rights and some cash! 
Lunch was catered, giving everybody another chance to catch up as holiday music lightly played on the speakers overhead. A prayer, a selection of Christmas songs, and an extra gift for every single employee kicked off the afternoon. As Spirited, the new Christmas movie, played on the auditorium screen, people munched on a mix of caramel corn and cheddar-flavored popcorn. To end the day, everybody was given the option of leaving early (most people took that option!).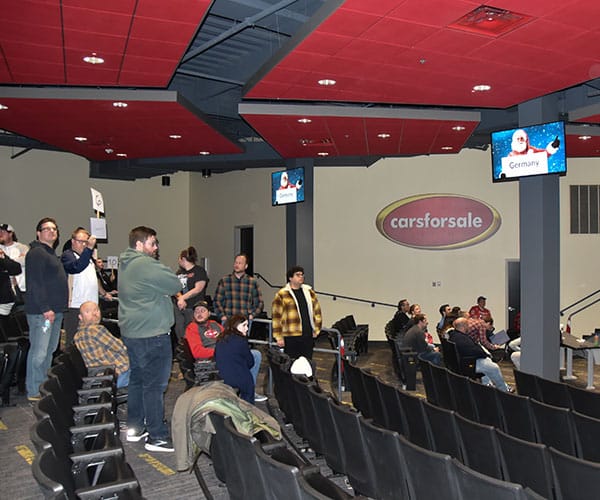 Although it didn't happen at the exact time it was originally planned for, it was a day full of food, fun, and festivities. The snow, cold, and wind may have delayed this get together, but it certainly didn't disrupt anyone's Christmas spirit!