Cars For Sale Halloween Happenings
Pumpkins, costumes, candy, and, of course, tricks! Cars For Sale was filled with the Halloween spirit, not just for one day, but all month long. Take a look at some of the fun that was had around the office this October! 
Creepy Crawlers … All Over!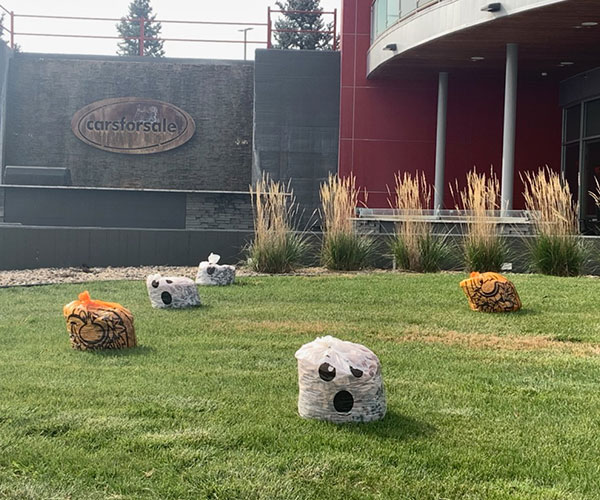 Outside were leaf-filled bags that resembled ghosts and jack-o-lanterns. The outdoor patio was adorned with ghosts, skeletons, and a large spiderweb. A giant spider, cobwebs, and skeletons encompassed the entry way. Decorations were put out in hallways, on desks, and in places you'd least expect to find them. Little plastic spiders were hidden in hand towels and in cubicles. 
Pumpkin Decorating Contest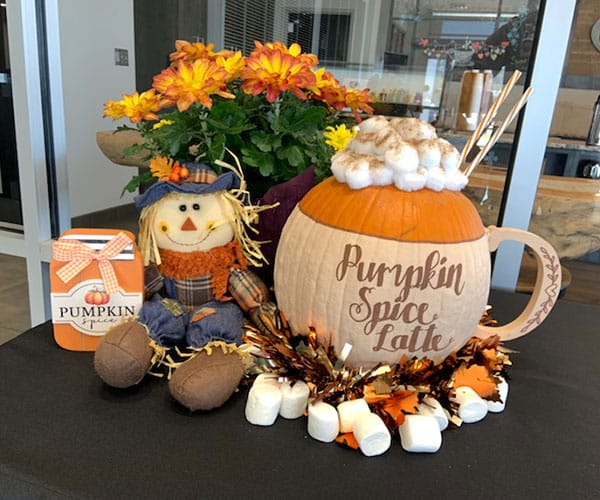 Halloween isn't just an excuse to eat candy at Cars For Sale. It's also a nice opportunity to get creative and work as a team during the annual Pumpkin Decorating Contest. The final result isn't necessarily a perfectly sculpted Jack-o-Lantern. It's all about decorating the pumpkin to fit a theme. Previous themes included animals and emojis. This year, the theme was food. 
During the first week of October each department team was given one pumpkin and $20 to start making their vision a reality. Before any project begins, though, brainstorming has to happen. 
It started out by sharing various images and ideas we found online. Then, we compiled all the ideas into a voting poll. We had some fun ones in our top 3: an ice cream cone, a margarita, and sushi.
– Jesse P, Creative Web
After the design was chosen, it was time to get supplies. Some went to Lowe's, Home Depot, and Menard's. Others used objects they already owned for this very specific job. 
What we could not afford within our budget, members of the team brought things from home. Most of the things we had to purchase were used in more than one area in our sushi roll pumpkin.
– Grace J., Creative Web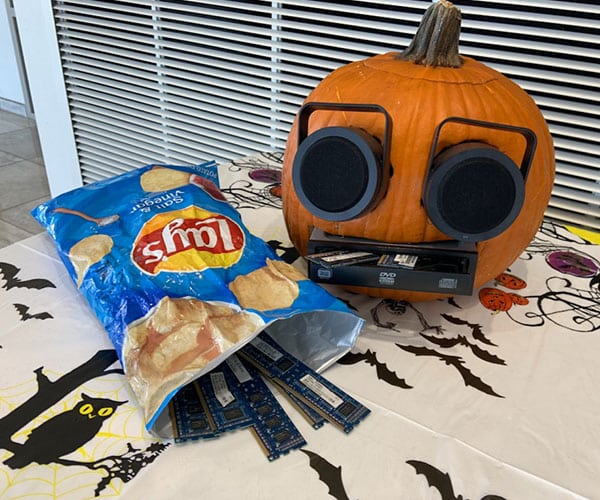 A donut hole, a sushi roll, caramel apples, a pumpkin spice latte (that even smelled delicious!), and an electronic enthusiast eating a bag of potato (computer) chips were the completed pumpkins in this year's contest.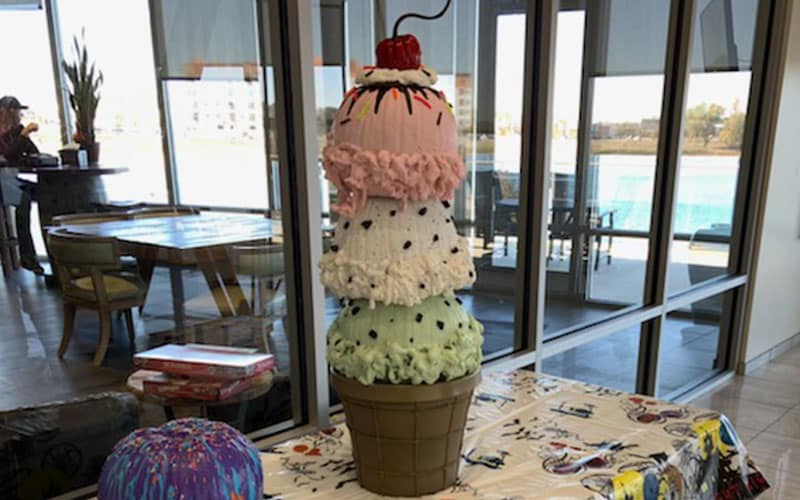 Each pumpkin was put on display in the atrium, and then voting commenced. When the results were calculated, the three-tiered ice cream cone (with a cherry on top!) took first place, giving the Marketing Team and Product Innovation Team a victory. 
It was really exciting to see our team win! There's a lot of creativity throughout all the teams, so you never know what you're going up against. I was stressing about it all coming together in time, but I'd say my favorite part was adding the finishing touches, like sprinkles and chocolate sauce.
– Caroline R, Marketing
After their win, the Marketing and Product Team is already looking to the future. 
We're always ready for another challenge. We'll see you again next year.
 – John H., Product Designer 
Sales Team Pumpkin Seed Guessing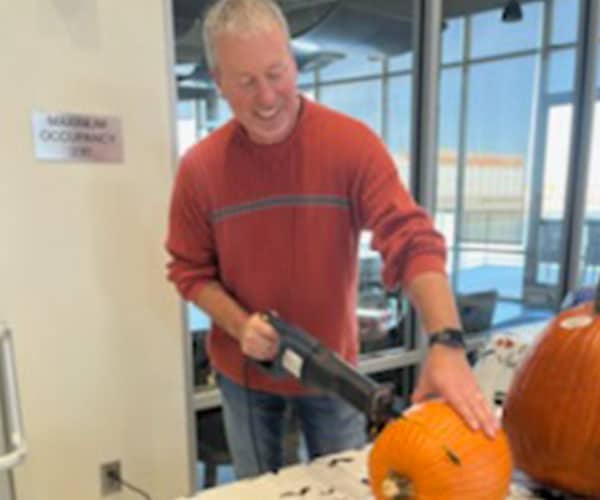 The sales team was given a little extra incentive to close deals, too. For most of October, two uncarved pumpkins sat on the sales floor. The challenge? Figure out how many seeds were in each pumpkin. 
Sales reps were able to submit a guess every time they made a sale.
– Candee W., Sales
A few people on the sales floor figured out a good way to make an educated guess. 
Some of the reps were attempting to count the ribs on the pumpkin to help them estimate how many seeds there would be.
 – Lance J., Sales 
That method may have paid off. After a thorough count, the pumpkin ended up having 1,060 seeds in it. Nate W. was just one seed away with a guess of 1,061. Travis M. was close as well, guessing 1,069 seeds. The next closest guesses were Andrew N with 1,022 seeds and Matt P. with 1,111 seeds. 
Our Annual Costume Contest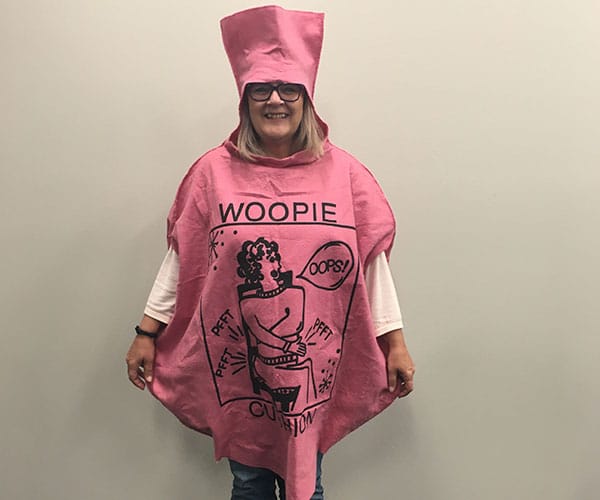 Finally, on the 31st of October, the annual Halloween Costume Contest was held. Entrants included a garden gnome, a Knight, a Pokemon trainer, a whoopie cushion, and a magic 8-ball. Tyler O. paid homage to The Office with his version of Recyclops. Others went for scarier costumes. Shannon S. dressed as a witch, Elliot N. dressed as a ghost, and Cassie S. became the Pumpkin Queen.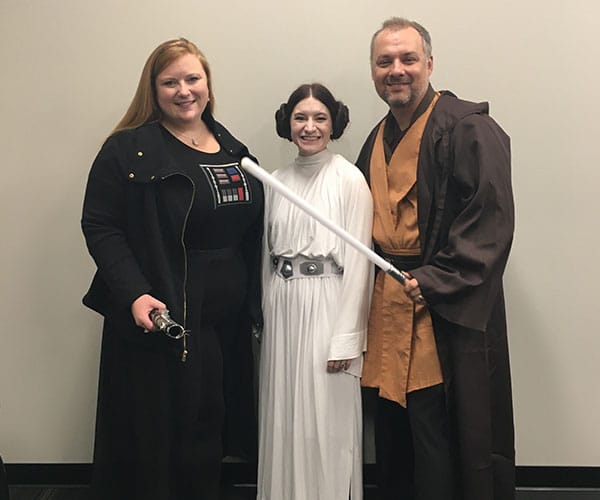 Star Wars was well-represented with Darth Vader, Princess Leia, and Obi-Wan Kenobi. There were a few Disney-Pixar costumes, too, including Woody from Toy Story, and Mike and Sully from Monsters Inc.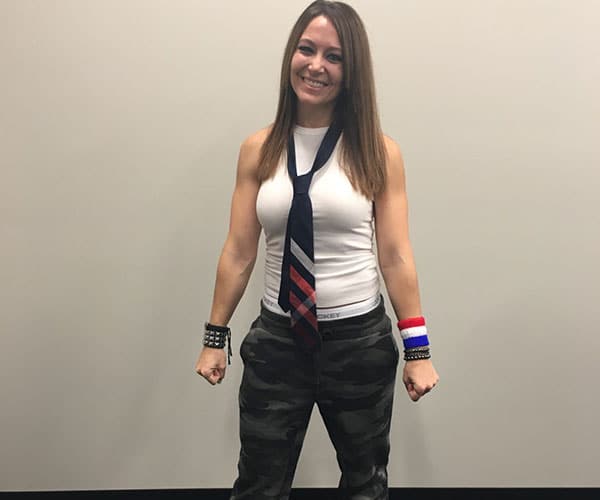 There was a full lineup of musical artists, from Avril Lavigne to Yung Gravy to the King himself, Elvis. Alex N. represented the entire Disco genre.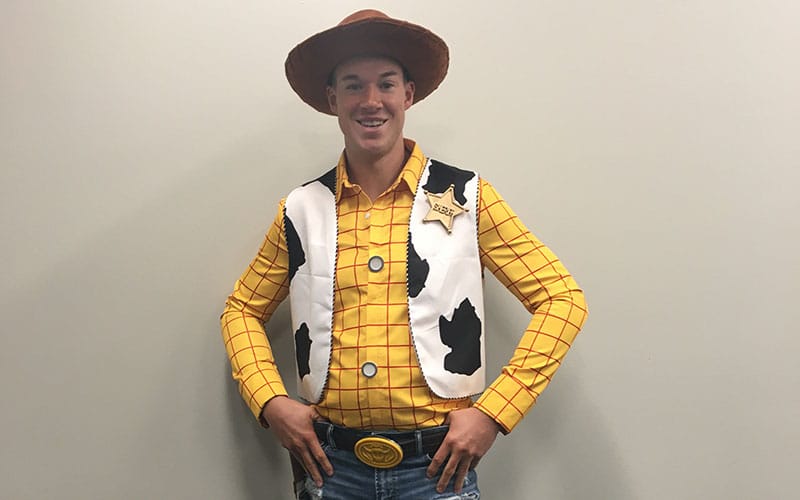 Paul L. got 4th place with his Elvis costume, Brenda S. took 3rd with her Scream Queen Pumpkin Monster costume, Micah R. came in 2nd with his Knight body armor, and Andrew N. won it all with his Woody costume. 
I was not anticipating getting first place since so many of the office staff were dressing up. I wanted to be Woody because Toy Story was one of my favorite movies as a kid. Also, people everywhere, young and old, are big fans of Woody so I thought it would make a great costume.
 – Andrew N., Sales 
From festive decorations and creative costumes to contests and prizes, this was an October jam-packed with entertainment!