Cars For Sale employees participate in Turkey Bowl VII
Thanksgiving means many things to many people, but, for the Cars For Sale team, it's also a chance to celebrate with the Cars For Sale Turkey Bowl!
It's a unique tradition that started several years ago. The concept is simple: a makeshift bowling lane is set up and one person from every department is chosen to knock down bowling pins with a 20lb frozen turkey!
Whether they're bowling or looking on from the crowd, team members enjoy the spectacle of the yearly competition.
I love it! It is a fun event and fun to watch!
– Dan R., Corporate Operations
Joezy G., from the sales department, has been a spectator for years, but now finally got to be part of it:
Turkey bowling has been a tradition since I joined the Carsforsale.com family, and I personally enjoy watching it and being a part of it!
It's All Up for Grabs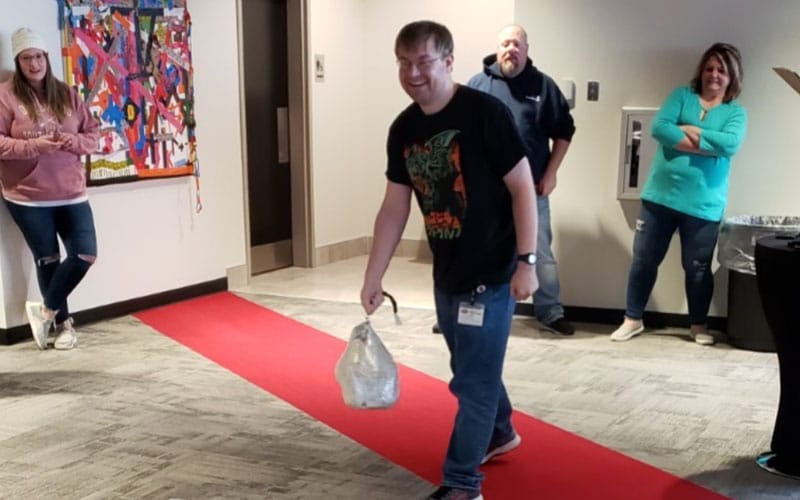 The Turkey Bowl isn't just about personal pride and some office fun. It's a chance to win some extra money, too. The bowlers can earn money for each pin knocked down.
With the holidays here, I'm sure any extra cash will be stolen by my kids without my knowledge and get spent on candy and Roblox gift cards.
– Dan R., Corporate Operations
Tricia D., from Powersports, also has plans for her winnings:
I'll be donating a meal to someone in need.
After a virtual turkey bowling event in 2020, Cars For Sale employees are getting a sense of normalcy this year. Some used it to prepare for this year's event, too.
I watched the Turkey Bowling video from last year to get pumped for today!
Said Joezy, who also prepared with a little bit of research on where the word 'turkey' comes from in bowling.
The term dates back to before the turn of the 20th century. In those years, scoring was much more difficult and to get three strikes in a row was quite an achievement. During Thanksgiving or Christmas week, the proprietor would present a live turkey to the first person on each team who scored three consecutive strikes.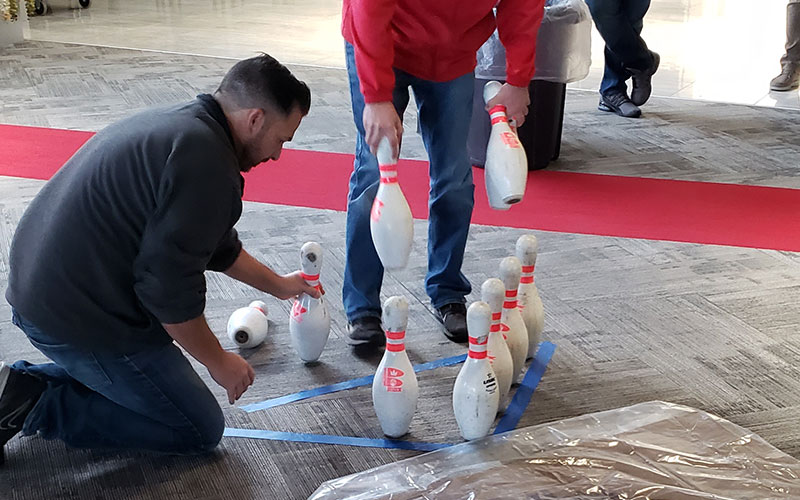 The Scores Are In!
As for the results? Here they are! After some group stretching and warm-ups, the bowlers lined up for their turn at the pins and the money.
Sam C., from Dealer Relations, was up first, knocking down several pins with the 20lb turkey. Joezy picked up a spare to a round of applause. Nikole K., from Human Resources, was the first to get a strike. Al V., from Collections, and Jeremy T., from IT, followed with strikes of their own.
By the end of the competition, dozens of pins were knocked down to smiles, laughter, and applause. Another successful Turkey Bowl is now in the record books!